What I'm Reading
6/04/2011
I have two books going today. The first is When Did We Lose Harriet by Patricia Sprinkle.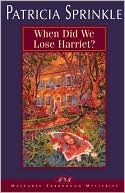 "A teenage girl has been missing from her Montgomery, Alabama, home for six weeks. What's amazing is other people's lack of concern. Just one person cares that she's gone: a spunky amateur sleuth on the sunset end of sixty. Armed with razor-sharp insight, a salty wit, and tenacious faith, MacLaren Yarbrough follows a trail of clues -- a wisp of a hint, a shadow of a lie -- in search of answers to questions that come hot and fast and that grow increasingly alarming."


It's entertaining and a quick read, but the main character keeps doing some stupid things.




I've heart a lot of positive things about Dog on It by Spencer Quinn.








"Meet Chet, the wise and lovable canine narrator of Dog on It, who works alongside Bernie, a down-on-his-luck private investigator. Chet might have flunked out of police school ("I'd been the best leaper in K-9 class, which had led to all the trouble in a way I couldn't remember exactly, although blood was involved"), but he's a detective through and through.
In this, their first adventure, Chet and Bernie investigate the disappearance of Madison, a teenage girl who may or may not have been kidnapped, but who has definitely gotten mixed up with some very unsavory characters. A well-behaved, gifted student, she didn't arrive home after school and her divorced mother is frantic. Bernie is quick to take the case — something about a cash flow problem that Chet's not all that clear about — and he's relieved, if vaguely suspicious, when Madison turns up unharmed with a story that doesn't add up. But when she disappears for a second time in a week, Bernie and Chet aren't taking any chances; they launch a full-blown investigation. Without a ransom demand, they're not convinced it's a kidnapping, but they are sure of one thing: something smells funny.
Their search for clues takes them into the desert to biker bars and other exotic locals, with Chet's highly trained nose leading the way. Both Chet and Bernie bring their own special skills to the hunt, one that puts each of them in peril. But even as the bad guys try to turn the tables, this duo is nothing if not resourceful, and the result is an uncommonly satisfying adventure.
With his doggy ways and his endearingly hardboiled voice, Chet is full of heart and occasionally prone to mischief. He is intensely loyal toBernie, who, though distracted by issues that Chet has difficulty understanding — like divorce, child custody, and other peculiar human concerns — is enormously likable himself, in his flawed, all-too-human way."
This isn't working for me either for some reason.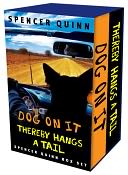 I don't think it's having a dog as a narrator because I read A Load of Old Bones by Suzette Hill and really like it.

"The curious and murderous exploits of the Rev Frances Outerard as recounted by himself with interspersions from his cat Maurice and his dog Bouncer. Leslie Phillips as a cat? Inspired casting! An enchanting tale full of fun, wit and insight. Set in a delightful 1950s mythical Surrey. The collusion between the cat and the dog to ensure their owner keeps out of trouble is hilarious."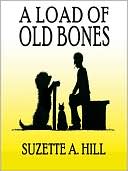 Of the three, A Load of Old Bones is the best. Maybe I should give up on the other two and start on Hill's Bones in the Belfry.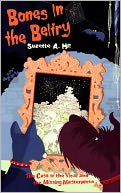 "In Hill's delightful second mystery to feature the Rev. Francis Oughterard, the Surrey vicar is still reeling from having gotten away with the murder of one of his parishioners in 2007's A Load of Old Bones. Oughterard feels he has no choice but to agree to storing stolen artwork at the vicarage at the insistence of an old theology college classmate, Nicholas Ingaza, because Ingaza provided him with an alibi for the parishioner's murder. The plot thickens when a visiting author with plans to write a mystery about the murder insists on a thorough search of the church and belfry where the clergyman has hidden the paintings. With his usual propensity for getting involved in crime, Oughterard soon finds himself in the midst of another tangled web of deception that even his cat, Maurice, and his dog, Bouncer, can't untangle, as revealed in chapters from their points-of-view. This dry, funny British gem, with its eccentric cast of characters, will leave readers laughing and eagerly awaiting the next episode."


All reviews from BarnesandNoble.com